How to start wildly profitable 6-figure Niche Website and Get your first high value check in just 90 days
Introducing to the 1K Accelerator
1K Accelerator is a proven and tested 8 week program that not only teaches you but also helps you to start a wildly profitable 6-figure Niche website and get your first high paying check in just 90 days.
It doesn't matter if you don't have any tech skills or any previous online business experience. Everything you need to know is provided step-by-step in the program. You don't have to do anything.
Guaranteed Results
The methods in 1K Accelerator program have been tested and proven by cutting edge marketers. As a leading digital marketing company we have sold 1k Accelerator to more than 1000 people and received %100 satisfaction reviews.
The 1K Accelerator is the best program for beginners and young entrepreneurs who want to build 6-figure online business. The methods in this program enable any person with no tech skills to make highly profitable niche website in just 90 days.
Simple Proven Process
1K Accelerator consists of proven simple step by step process that enables you to build your online empire with one single website. It enables you to find your niche, build your website and get relevant organic or paid traffic.
1k Accelerator enables you to get targeted high quality web traffic to sell your own product/service or to run affiliate ads. You can get decent ROI from this program. 1K Accelerator is simple and effective program that can bring long term cash.
90 Days Actionable Program
Finding Profitable but less Competitive Niche

Building Amazing User Friendly Website

Creating High Quality Content to Get Free Organic Traffic

Creating High Converting Landing Page for Your Product or Service

Getting Approval from Major High Paying Affiliate Programs and Ad Networks

Using Paid Traffic to increase sales or commission based clicks.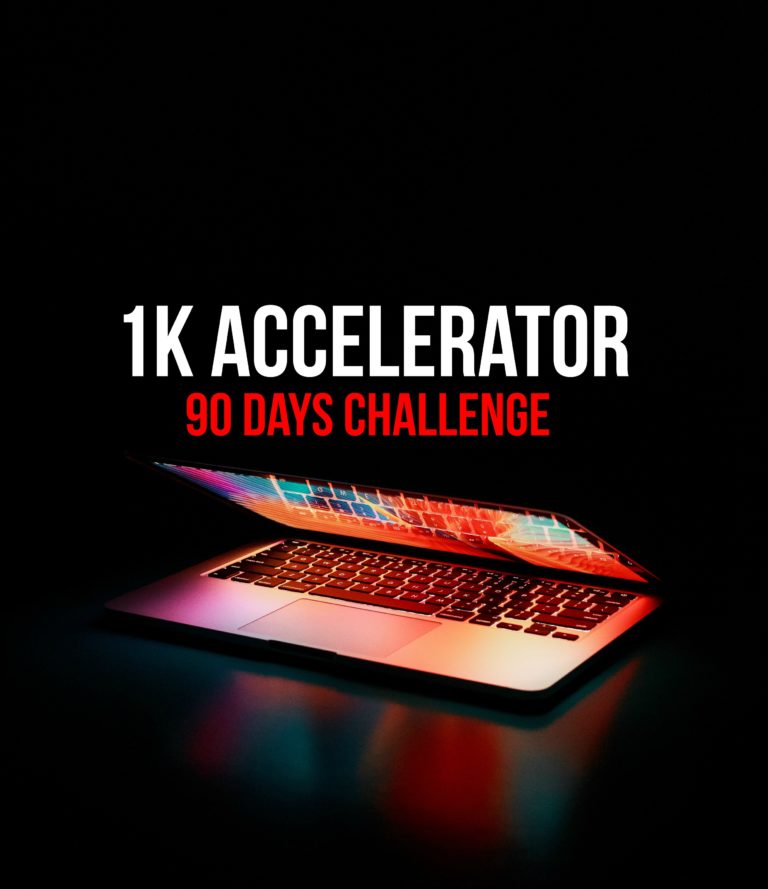 It Makes Sense
It makes sense to get 1K Accelerator. It enables an individual to make wildly profitable niche website with zero tech skills. Everything you get is real and authentic. Just give 90 days of your life to make a difference.
1K Accelerator is designed by professional digital marketers and data scientists. As a high profile digital marketing Company we decided to invest in this amazing product to help young entrepreneurs and non-techies, who want to build stable income platform on the web.
Why 1k Accelerator
Let's get real many online courses on the internet are purely based on learning right? But 1k Accelerator is based on implementation. You not only learn in this program. You also get implementation.
You even don't have to do anything. Our team will set up everything for you. Just imagine having your own traffic funnel or high earning web property that has potential to make you money while you sleep.
It is result oriented course that can bring real success. It is created by a marketing  firm that gives guarantee that you will be able to extract good return on investment. It is ideal program for you. 
It enables you to build or get profitable niche website with no tech skills.

It produces long term online income while you sleep.

It is not just a learning program. It focuses on implementation to drive results quickly.

You get results in just 90 days with guarantee.

It is designed and approved by certified online marketers.

It is affordable and %90 cheaper than other useless online courses.

You can do it on your own or we can do it for you.

It is the best way to make passive income online.